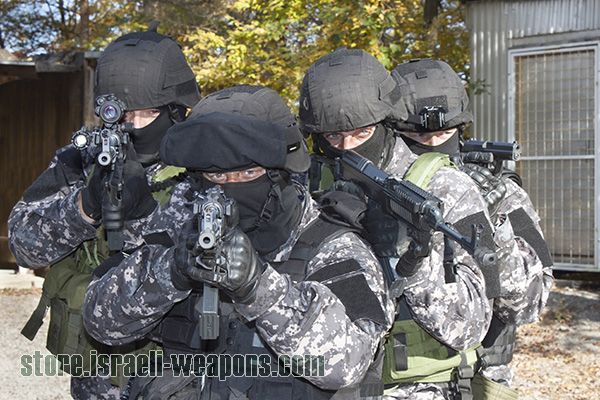 In the beginning when the first body armor was developed, bullet proof vest and other accessory gear were usually quite heavy and tended to limit movement. Such early vests were often made from metal plates that fitted into pockets on the bulletproof vest. As technology and progress continued, Kevlar and Spectra Shield were introduced to the body armor market. These more comfortable and more form-fitting bulletproof vests were made from special fibers that created a resistant yarn that were in turn made into sheets of cloth.
As fabrics made from Kevlar and Spectra Shield entered the market, these types of special fibers were woven to form a bullet-resistant yarn making sheets of cloth that could be used to for vest that are more form-fitting and comfortable. Researchers and manufacturers are ever looking for better and more effective bulletproof materials, especially those that are stronger and lighter. Various new bulletproof materials are being created for use in bullet proof vests.
Dyneema SB61
A few years ago, DSM a Dutch company developed a new polymer much stronger than Kevlar. DSM reports that Dyneema SB61 is 40% stronger than Kevlar and 15 times stronger than steel. Their new material has already been used in some bodyarmor used by law enforcement.
Carbon Nanotubes
Scientists are currently working on using carbon nanotubes to develop ultra-strong fibers that may be used to fabricate protective gear. These carbon nanotube fibers are 4 times stronger than spider silk and 20 times stronger than steel wire as well as being 17 times stronger than Kevlar. Carbon nanofibers promise to provide stronger materials for military personnel as well.
Colloidal Shear-Thickening Fluids
Although most bullet proof vests are made from dry fibers, some researchers believe that impregnating bulletproof fibers with a colloidal shear-thickening liquid will make such body armor applications much stronger. When these fluid impregnated fibers undergo stress, the fluid becomes rigid and protects he body well. Also, fewer layers of the material are needed since it is stronger than conventional vest material and so many fewer layers are needed, which allows for less restriction of movement.
As greater and more protective bullet proof products are created, you must reassess your situation to ensure that you have the most appropriate product for your needs. Each bulletproof product will have a different rating and this will inform you as to the grade and type of protection that it affords. A large quantity of research on the modern types of bullet proof vest that are currently on the market and available to consumers by which to compare materials and protective capabilities. Bullet proof protective vests are being made stronger and lighter each day.