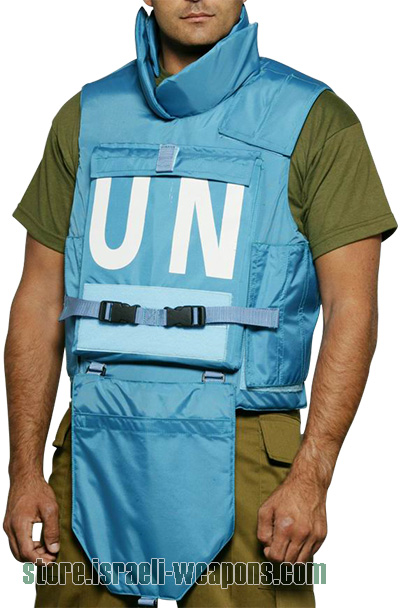 This official UN buleltproof vest with level IIIA protection, the level IIIA means that it is able to withstand bullets from a 9 mm mag or protect the wearer from ricochet.
Adjustable Straps
This UN bullet proof vest has adjustable Velcro straps to ensure a comfortable yet snug fit. It has six straps located at different positions to allow for a quick and easy placement and fitting. The bulletproof vest is lightweight and protect wide area of the body. Being lightweight makes the bulletproof vest great for long hours of wear on the job.
Added Safety
This vest has a compartment which allows the wearer to add body armor plates to the vest for more protection. By adding hard armor plate to the vest you are adding a layer of protection which increases the amount of force the vest can withstand. The armor plates can be made from a variety of materials which will add weight to the vest. The weight amount added will vary depending on the material chosen.
Extra information
No worries when it comes to where to store the UN personal bullet proof vest, the vest designed to comes with a special carrying bag for easy storage and quick deployment. The vest also comes in a variety of sizes ranging from small to 5xl. The bulletproof vest can be purchased in a variety of colors, such as black or camo, to meet your particular requirements.
No matter the reason for the Hagor UN personal bullet proof vest this is a terrific addition for added protection. It is lightweight and made from a strong dependable material that has been tested under various terrains and conditions. This makes a great compliment to the wearers gear. The additional compartment for the armor plates makes this an awesome deal. The material allows the vest to breathe which helps prevent the wearer from overheating. That is handy when needing to wear the bulletproof vest for long periods of time. Comfort and safety are two of the many things this vest offers.