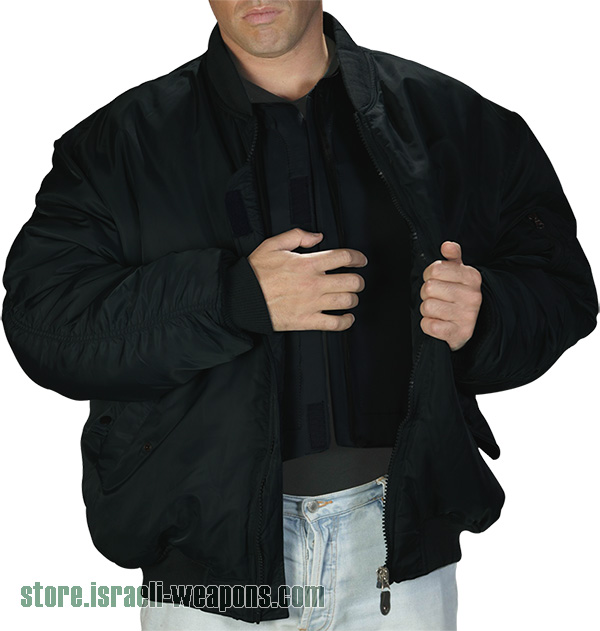 When undertaking dangerous covert missions, it is always important to keep in mind your personal security. This is because doing so could potentially mean the difference between life and death. That is why it is vital to invest in products that would not only protect you but would also not arouse any suspicion or draw unwanted attention. This is why a black flight coat bulletproof vest is one of the most effective products that can help you achieve exactly that. This is due to the fact that it has a number of attributes that make keeping yourself safe as simple as slipping a bullet proof vest on.
Undercover Bullet Proof Jacket
The aim of manufacturing these bulletproof jacket is to provide wearers with a product that can be able to protect them effectively without making it obvious that they are wearing a bullet proof vest. The manufacturers, Hagor, achieve this in a very ingenious manner. The jackets are made such that their color and that of the vest are similar. Furthermore, the vest is smaller in size and therefore, hidden from view. This gives it a covert nature that enables you to go into dangerous places with the confidence that you are protected. In addition to this, it draws attention from you therefore enabling you to operate in a covert manner.
Concealed Bulletproof Vest
One of the things that immediately draw you to this bullet proof jacket is the fact that they are roomy. This is of great advantage to the wearer due to a number of reasons. The greatest among these is the fact that with a roomy bullet proof jacket, you can be able to conceal weapons quite easily. This makes it possible to carry guns without arousing the slightest attention. In addition to this, they offer you a great advantage in that it effectively prevents anyone else from noticing that you have a bullet proof vest on.
Perfect for Cold Weather
When you put on one of these body armor jackets, you do not need to put on any other bulletproof jacket. This is due to the fact that they are not only meant to provide you with protection but also with insulation against cold. They have been manufactured in Israel using the finest materials that are effective in performing these tasks. That means that you will get additional value for your money due to the fact that you can be able to enjoy additional benefits apart from being secured by just putting them on. This makes a bullet proof vest an essential part of the ensemble for anyone who intends to protect them not only against firepower but also bad weather.
Additional Security
Among the best feature that comes with these jackets is the fact that its vest would provide you with additional security. This is because the front end is fitted with extra padding for added security. This means that the bullet proof vest is not only effective for protection against gunshots but also against blunt forces such as those exerted by blunt objects. This gives you all rounded and wholesome protection that can only be enjoyed by wearing one of these bullet proof jackets.
Older Model: