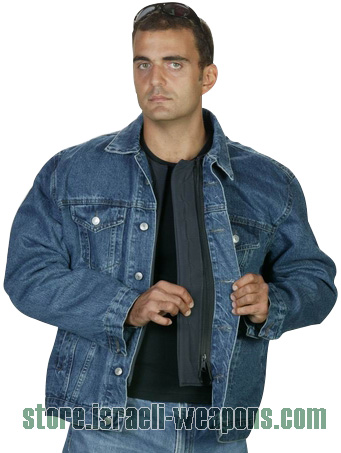 For security operations to be covert and effective, they more often than not involve gelling into the general population. In doing so however, your personal security is not entirely assured. That is why it is important to have equipment that would not only enable you to pass as just any other member of the public but also keep secure. One of the most effective ways of doing this is by wearing a jeans bulletproof vest. This is due to the fact that they have a wide array of features that make them effective for this purpose. Some of these are mentioned on this post.
Covertness of Bulletproof Jacket
One of the major reasons why this vest is preferred by many people is the covertness that it affords them. This is due to the fact that the vest has been perfectly knitted into the denim bullet proof jacket in such a manner that it cannot be seen by anyone else. This means that you can be able to move in the public and conduct all your business without raising an eyebrow. This ensures that you do not attract any attention and you can be able to undertake and complete your missions effectively assured of the covert protection offered by this bulletproof vest.
Stylish
Whether you are into fashionable clothing or not, you will fall in love with these bullet proof vest jackets. This is for no other reason, but the simple fact that they are tailored in a fashionable manner. This will not only aid your look but also ensures you easily fit into the general population. When in one of these, it is impossible to distinguish between a law enforcement officer and a fashion model. Since this gives you the ability to look like any other citizen, it aids in the covertness of the whole bulletproof jacket, therefore, giving you the benefit of anonymous movement.
Provide Superior Protection
The primary aim function of these jackets is to provide the wearer with unmatched protection. They do not fail in this. The bulletproof jacket is manufactured in Israel but none other than Hagor, who are official suppliers to the IDF. That means that you will be protecting yourself using a vest that has been given the thumbs up by the military itself. In addition to this, the vests have been manufactured to perfection and tested to prove their functionality. That is the reason why they have been provided with an IIIA rating- the sure mark of quality.
They are convenient
Apart from providing you with security, these bulletproof jackets offer you a level of convenience that is unmatched by any other on the market today. This is due to the fact that the bulletproof vest jackets are lightweight, which means that you can be able to move swiftly with them without feeling bogged down or fatigued. In addition to this, the jackets have several pockets both on the outside. You can use this to carry all the things that you need.