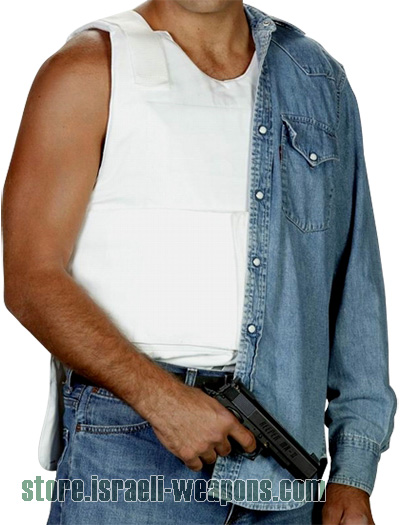 When going on an undercover mission, one of the most important things one should do is to avoid raising any kind of suspicion. However, it is equally important to maintain your personal security so as to be able to complete the mission successfully. It is important to reach a compromise that will assure you of both. This is exactly what this concealable bulletproof vest Israeli-manufactured by Hagor enables you to do. This is because it has been made in a manner that incorporates features that will guarantee you of not only your security but also offering you the highest level of covertness.
Concealability
The ability to put on one of these bulletproof vests without raising any suspicion is one of its greatest features. This is made possible by the manner in which they are made. The vest comes in a white color which resembles that of any other ordinary vest. That means that no one will be able to notice that you are putting on a bullet proof one. In addition to this, it is made in such a way that you can be able to tuck it into your trousers and no part, which could draw attention is left hanging out.
Temperature regulation
One of the greatest concerns for anyone seeking concealable bulletproof vests is temperature regulation. This is due to the fact that they are worn under other clothes and may be very uncomfortable if they do not regulate temperature appropriately. That is not the case with this vest. It is made using material that does not store heat but releases it. That means that you do not have to worry about getting overheated especially when involved in action packed missions. They are an essential part of your ensemble regardless of the weather you might be operating in. This makes the vests not only convenient but also effective in providing protection.
Light weight
If you intend to purchase a bulletproof vest, then one of the things that you must pay attention to is how much they weigh. This is because it plays a big role in determining how comfortable they are. This vest caters for this in a very effective manner. In manufacturing this vest, Hagor has taken this into consideration and kept the weight to a bare minimum while maintaining its ability to protect the wearer. This makes it not only comfortable but also an effective vest since you cannot get fatigued from wearing them.
Military grade manufacturing
Hagor is an official supplier for the IDF. That means that they put a lot into the products that they manufacture. This is exactly what has been done with regard to this bulletproof vest. It has been made to offer the wearers the ultimate protection they need for whichever mission they undertake. The fact that the vest has been provided with an IIIA rating indicates that they have been made in a manner that would provide you with the protection you require.