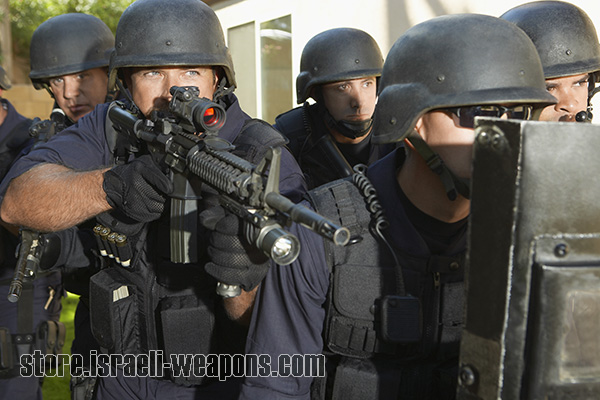 Recent technological advances in the field of body armor have brought manufacturers to increase the lasting durability of bulletproof vests so that are stronger and lighter than ever before. Conventional Kevlar bulletproof vest achieve their protection using several layers of protective Kevlar linings one on top of the next until the necessary level of bullet protection is reached. As layer upon layer are amounted up, the vest become quite bulky, uncomfortable, heavy, and rigid.
Fluid-Impregnated Fibers
With the purpose of making lighter and more comfortable ballistic vests, scientists have experimented with an advanced sheer-thickening liquid. By impregnating the Kevlar vests with this liquid, many fewer layers are necessary. When objects such as a knife or shrapnel strike such a vest, the fluids freeze into a solid state that deflects the force, as well once the force subsides the hardened liquid returns to its fully liquid state. This advanced type of fluid impregnated fibers in bodyarmor are starting to be introduced into newer bulletproof vest, this facilitates a stronger as well as lighter vest. This style of vest is ideal for corrections officers and all sorts of prison personnel since they are highly likely to be stabbed while on duty.
Bullet Proof Vests
There are several vital points to consider if you are in the process of deciding which type of bullet proof vest is correct for you.
NIJ rating – the main criteria that one should consider when choose the appropriate bullet proof vest for your needs is whether it is going to stop the type of caliber firearms usually encountered in your law enforcement situation. This will help you figure out the rating and gauge of appropriate for you.
Size chart – some Kevlar vest companies only offer a couple of sizes. It is likely that you will find that your vest does not fit well, so it is highly important to check to see that they carry the comfortable dimensions that you need.
Label of the protection – be sure that the vest that you purchase includes a clearly printed label inside that shows the protective rating of the vest. This way, you can ensure that it provides the correct level of protection. You should also find a label that details the date of issue, the serial number, and the lot number since all bullet proof vests are required to have this label information provided to consumers.
Different ratings of bullet proof vests protect against differing varieties of bullets. So, you should verify that it fits you properly, that you know what its rating is, and is clearly labeled with the necessary information.