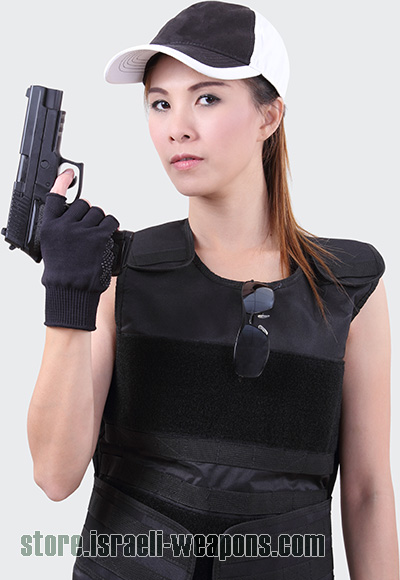 Body armor prevents bodily injury and death and can offer protection from a variety of weapons. Modern body armor products provide an array of protection from bullets from both handguns and rifles that might pierce the body. These products catch the bullet and absorb its impact force so that it does not penetrate the body and cause injury to vital bodily organs.
Various levels of protection are available beginning with level I to IV. Each level provides an increasing level of ballistic protection. You must assess for yourself what level of protection is appropriate for you. The correct levels for handgun protection are level IIA 2A, level II 2, and level IIIA 3A. These ratings of vests will protect from the majority of handgun calibers. The major difference in these three vest ratings is the amount of blunt trauma force protection. The following specifications are listed for each level:
Soft Body Armor Level II-A ~4 mm thick approx: Level II-A could be the most advantageous choice if terms of thinness, comfortableness, and concealability are the most critical factors. For example, if you intend to wear it for long periods of time, or if you anticipate that you will do a lot of movement. Modern body armor vests are made from highly bullet-resistant synthetic fabrics. Most of them are light and flexible and are convenient to wear for the end-user.
Soft Body Armor Level II ~5 mm thick approx: Level II is what is typically worn by law enforcement officers. A superb balance between blunt trauma protection you need, the cost, and concealability, thickness, and comfort. What we believe is the best recommendation.
Soft Body Armor Level III-A ~8 – 10 mm thick approx: Level III-A is a little bit thicker, a little stiffer, heavier-duty and more expensive, but will protect against many other of the uncommon pistol threats, for example, it is rated to protect against 9mm sub-machine-gun and .44 Magnum. Additionally, it gives you greater blunt trauma force protection. This may very well help you survive a gunfight.
Hard Body Armor Level III and IV (Armor Plates): Up to level IIIA 3A is considered soft body armor, but if you need protection against a higher caliber round like rifle bullets, then you will have to use levels III 3 and IV 4 hard body armor. This level of body armors has additional body armor plates that are inserted into the bulletproof vests to provide added protection for the front and the back. In fact, level III 3 and IV 4 bullet proof vests can protect against rifle or machine gun fire and level IV 4 is designed to protect against armor piercing rounds where level III 3 isn't.
There is no way around the fact that there is a trade-off between added protection and comfort and concealability, so choose the best type for you and the level of safety that is needed, either light-weight or heavier-weight vests. Body armor shops offer especially lightweight vests for the V.I.P. female. It is always best to purchase a lower level of protection so that you are more apt to wear it as often as possible, rather than buying the highest and heaviest protection available when it won't be worn. The best vest for you is the one that you are wearing if you are shot!